The husband is doing an overnight tonight. :( Before he left for work at 9pm, he ran a few errands with me. He's very open to the other coupon/ecb/rr/scr shopping. In fact there are times when he'll run to the grocery store and come home with a handful of coupons he found. It's too cute. He was the one that came up with the fantastic deal at Kroger for the Stouffers meals a few weeks ago - that was a bargain!

We ran by Walgreens to try to do the John Frieda deal, but couldn't find those specific products anyway! Boo!

Next we ran to CVS and I got the following, and completely forgot a few other things, oops!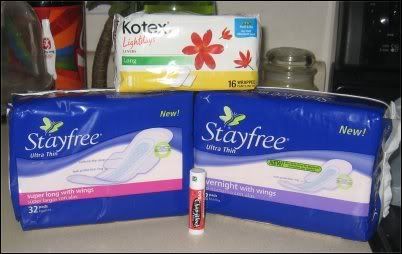 Stayfree Pads - $4.50/ea. x 2
Kotex Liners - $1.49
Chapstick - $0.99

Subtotal: $11.48

- $2.00 CVS $2/$10 Coupon
- $4.50 Stayfree B1G1F Coupon
- $0.75 Kotex Coupon

New Subtotal: $4.23

Used: $4.00 ECBs

Paid OOP: $0.23 + tax

Received: $5.00 ECB & $1.49 ECB - PROFIT!

I don't even use those products! Except the chapstick. :) I'm not sure what to do with the Stayfree and Kotex though...donate perhaps.

Our last stop was to Rite Aid. I found a couple more Pert plus coupons that expire 8/31 so I figured I'd going ahead and use them up. I also found a free Mighty Dog coupon while shuffling through old inserts.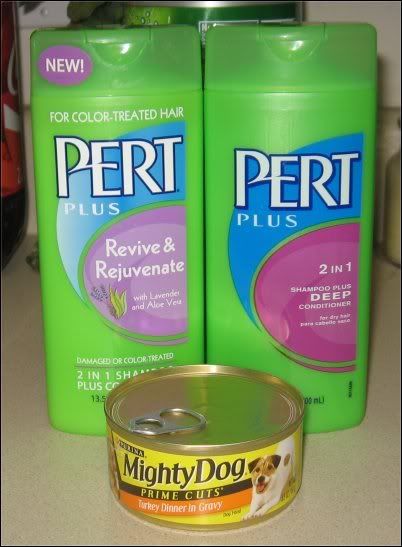 Pert Plus Shampoo/Conditioner - $2.99/ea. x 2
Might Dog Canned Food - $1.19

Subtotal: $7.17

- $2.00 Pert Coupon (any)
- $3.00 Pert Coupon (botanicals)
- $1.19 Mighty Dog Canned Food FREE Coupon

New Subtotal: $0.98 + tax

And I'll receive a $2.00 rebate for the Pert! So another profitable purchase. Woot.

The husband and his friend were able to load up and take home our hardwood flooring today. Here it is! I hate that this stack will sit there until October, but it's worth it.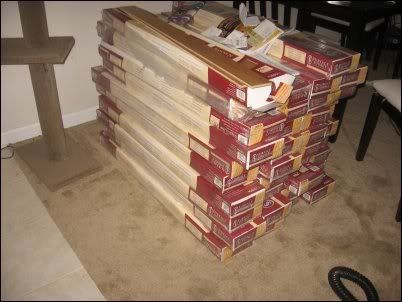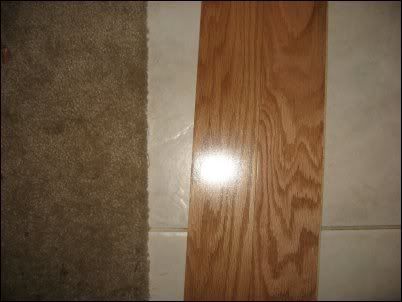 Next to our disgusting carpet and ugly entry way tile. I'm going to destroy that tile and put the hardwood there as well. When we bought the house, on our initial walk-through, one of the tiles was cracked, so we asked for it to be replaced. It was, but terribly done. The other tiles are chipped around the edges from where they pryed up the busted tile. They tried to cover it up with grout, but it's noticeable! Cheap builders, ugh. At least we have our first home owner experience. We'll definitely know what to look for in our next home. Anyway, that's our new flooring! I can't wait for it to go down. Unfortunately we're not entirely sure where to put our furniture during the process...hmmm...