My mother stopped by this evening and she was all excited about her recent CVS deal. She spent five cents out of pocket! That beat my lowest (ten cents)!! Awesome. :) Of course after that I had the urge to run to CVS before they closed.




Fushion Razor - $9.99
Dawn Dish Soap - $2.00/2
Oral B Toothbrushes - $6.99
Smart Rinse Mouthwash - $3.49

Subtotal: $22.47

- $4.00 CVS Coupon ($4 off $20)
- $4.00 Fushion Razor Coupon
- $0.25 Dawn Dish Soap Coupon
- $0.25 Dawn Dish Soap Coupon

New Subtotal: $13.97

Used: $8.00 & $5.00 ECBs

Paid: $1.35 out of pocket (with tax)

Earned: $15.48 ECBs

There's a little newpapers delivered in our neighborhood once a week. They usually have Smartsource or Red Plum coupon inserts. Imagine my surprise when I opened mine up and found the P&G insert that I didn't get in my Sunday papers! I was quite excited. Our neighbors have no interest in this little paper, they often pick it up and throw it right into their trash cans. My husband did something so very, very awesome tonight. He helped me up to bed (I have a bad migraine this evening) and then he took the dogs outside. When he came back upstairs, he brought me a surprise!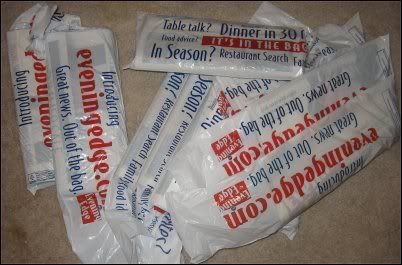 Ten of the newspapers our neighbors were going to throw away!




Now I have ten P&G inserts!! To share of course! :) I also came across a thick book for Rite Aid, so I gathered those out of the newspapers as well.




Coupons inside and lots of them!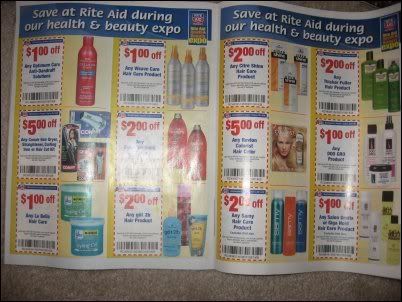 The best part? They are manufacturer coupons! Not Rite Aid store coupons, so they can be used anywhere! There are some fantastic coupons inside, for example: $1.00 off Tide! The most I've ever come across is $0.35, so I'm quite excited about $1.00 off! That's my excitement for the evening. Now to sleep off this migraine...