I received a rejection letter for my Febreeze Noticeables rebate I sent away for a couple of months ago. "Invalid UPC, no receipt enclosed." All false - I make copies of everything right before I mail it off. Now I need to track down a phone number to call them!

While browsing a few forums and seeing several stockpile pictures, I was inspired. I decided to go to get a shelf and start organizing everything I have! I couldn't find any decently sized shelfs for under $25.00, so of course I searched for a coupon! It was my lucky day; $10 off $25 @ Lowes when you use your Visa card.

Picked up my shelf after work (I won't even go into my rant about my terrible cashier!!). Immediately came home and started lugging stockpile items from every room in the house! And ta-da! ...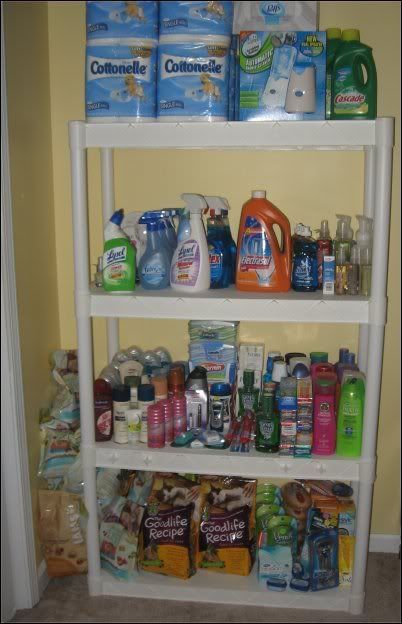 I left all the laundry detergent downstairs in the laundry area. I left most of the paper towels in the pantry too. Mainly because I can't reach them and the husband has already left for work. And as you can see, I'm out of room! Guess I need another shelf eventually. I took a few close ups to share as well...




The very top: toilet paper, paper towels, dish detergent, kleenex and scrubbing bubbles shower cleaner.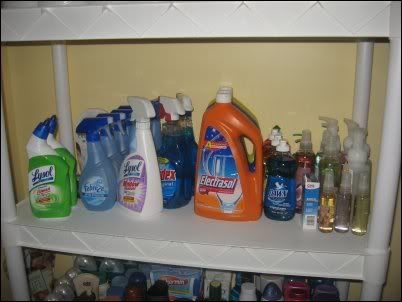 Second shelf: cleaning supplies, dish soap & detergent and my bath & body works soap/spray stash.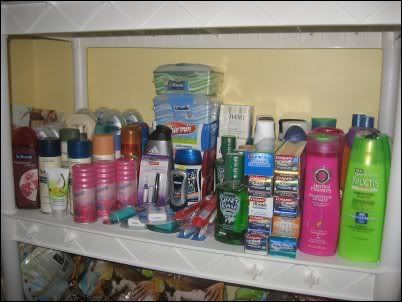 Third shelf: Shampoo/condition, body wash, shaving cream, lotions, wipes, deodorent, mouthwash, toothpaste, floss, etc.




Bottom shelf: Razors and cat food galore! I have so many bags of cat food that they're actually stacked to the left of the shelf going up the wall!

I sent an email complaining to the newspaper that I did not receive any P&G inserts in my Sunday papers. To my surprise, I received a response today...

Thank you for your email. I apologize for the inconvenience. The Proctor & Gamble coupons were missing in error. We are still in the process of investigating this error. We will try our best to mail the coupons to you or at least send a refund for the cost of the Sunday paper. Please send us you complete mailing address, phone number and name to complete this transaction.

I hope I receive them soon! I also emailed Iams about their dog food. Basically letting them know that it's the only food that doesn't upset my dogs stomachs (true), but that I wish there were more coupons or sales for their dog food. I have boatloads of cat food, but rarely find great deals on dog food! I received a response within hours, here's a snippet...

For your inconvenience, I would be happy to mail you a coupon good towards a free 8 lb. bag of any Iams Dry Dog Food! If you don't receive this within 14 business days, please be sure to let me know.

Yay! Always email or call companies with compliments or complaints. They're generally good about getting back to you and offering coupons or freebies! I'll post when/if I receive any goodies. I added a new section in the right column - coupon links. I'm only adding the ones I find and am able to use, that way you know they work! :)