We went grocery shopping at Kroger on Saturday. We've had a hectic weekend with lots of spring cleaning, so I forgot to get pictures of our haul. However I did bring out Kroger bill from $116 down to $40 with coupons! To my surprise, the cashier was just as excited as we were. So was the lady behind us (she actually congratulated us, lol). Usually people are a bit snotty when it comes to coupons.

Today we decided we're going to have a yard sale in a few weeks. I wanted to start pricing things as we began cleaning, so we made a trip over to Walgreens. I did quite well there! And remembered to snap a picture. :)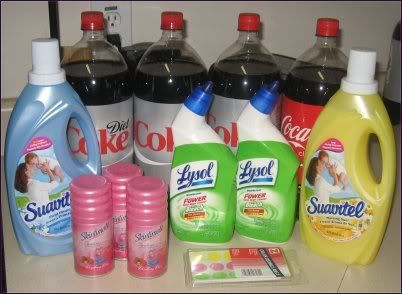 Diet Coke 2 Liter - 3 @ $0.89 each
Reg. Coke 2 Liter - 1 @ $0.89
Suavitel Fabric Softener - 2 @ $2.79 each
Skintimate Shave Gel - 3 @ $0.99 each
Lysol Toilet Bowl Cleaner - 2 @ $2.79 each
Yard Sale Price Stickers - 1 @ $1.99

Subtotal: $19.68

-$10.00 RRs (from P&G deal)
- $2.79 Suavitel WAGS Coupon (B1G1F)
- $2.79 Lysol WAGS Coupon (B1G1F)
- $1.00 Suavitel
- $0.50 Suavitel
- $0.55 Skintimate
- $0.55 Skintimate
- $0.55 Skintimate

New Subtotal: $0.95

Used: $0.95 Cash :)

As we were standing in the line at Walgreens, the assistant manager opened another registered and called us over. I was a bit nervous about doing this deal with him. I've read many horror stories on forums about managers being extremely harsh towards people who use coupons.

However, that wasn't the case at all for me! He was very nice and quit surprised at how well I did. In fact he even stated "wow! I guess I need to start clipping coupons!" Phew!

I'm not sure if I'll have any deals to post this week. I didn't really see much in the fliers from the Sunday paper, but I may need to look again. Plus we're on a tight budget for awhile.