There was a mishap in our guest bathroom a couple of weeks ago. A friend accidentally damaged the sink and flooded the bathroom. As a result, a lot of the Cottonelle toilet paper I purchased April 5th was ruined. :sigh: So I went back onto ebay and nabbed 20 more $1.00 off coupons for around $6.00.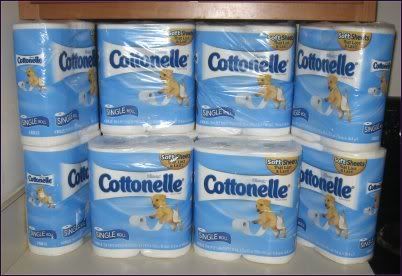 The husband ran to Kroger to pick up toilet paper for me. <3

Cottonelle 4 pack - $1.00 each - purchased 10.

- $1.00 Coupon x 10

Total OOP: $0.00 :)

I decided to stop off at Walgreens this morning and see if they restocked on the toothpastes. They didn't, but I managed to do another deal anyway...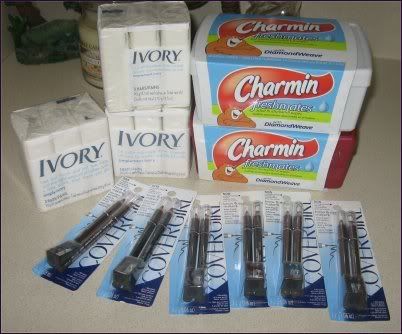 $23.92 - Cover Girl Eyebrow Liner x 8 (um anybody want/need these?!)
$4.98 - Charmin Fresh Wipes x 2
$4.17 - Ivory Soap 3 Pk x 3
$1.39 - 20oz Pepsi

Subtotal: $34.46

- $6.00 RR (Venus)
- $3.00 RR (Zantac)
- $1.00 Charmin Coupon (Wags)
- $1.20 Ivory Coupon (Wags)
- $2.50 Cover Girl Coupon
- $0.25 Ivory Soap Coupon
- $0.25 Ivory Soap Coupon
- $0.25 Ivory Soap Coupon
- $2.50 Cover Girl Coupon
- $2.50 Cover Girl Coupon
- $2.50 Cover Girl Coupon
- $3.00 Cover Girl Coupon (Wags)
- $3.00 Cover Girl Coupon (Wags)

New Subtotal: $6.51 !!!

Earned RRs: $20.00 + $2.00 Cottonelle Coupon

My earned RRs this week that I have leftover....




$46.00 Register Rewards!! And 2 $2.00 off Cottonelle coupons that will come in handy next week when they are on sale 2 for $4.00 (plus I have lots of $0.50 manufacturer coupons). Not bad for my first week with Walgreens!!

Next we went to Publix to pick up the birthday cake (for the husband) and my prenatal vitamins prescription (which has a lot of side effects listed, wow).

We also celebrated my husbands birthday today. It was May 4th, but since I was on bedrest prior to surgery, we opted to celebrate it just a little bit later. I think it was worth the wait. ;) I was so excited about this. I planned and saved for his gift for about a month. I was able to get a couple of people to pitch in on it as well. I don't usually do much for his birthday, because I never know what he wants/needs. He'll just say "nothing". He is difficult to buy for, but for once, I knew exactly what to get!!

I bought him an XBOX 360 Elite and Grand Theft Auto 4. Now the Elite is insanely expensive. I was planning on getting him the next one down, which is what he wanted. But my boss INSISTED I get the more expensive model. He ended up giving me a hundred dollars to put towards the gift! As did other family members. So in the end it only cost me about $400 oop. NOT A DEAL, haha. We picked it up at Target yesterday. They were completely sold out of the GTA4 game, but they had the limited edition version for $30 more, so I went ahead and bought that (it came with a huge metal lock box, a keychain, a book and a bag). Plus a 3 year extended warranty. I went in with a budget in mind and came out completely blowing the budget away. Oops. Totally worth it though, he was excited.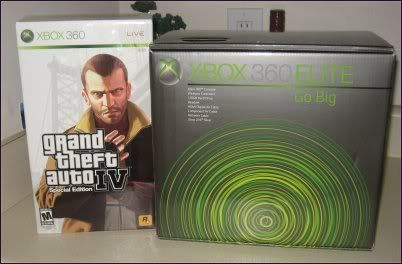 NOT A DEAL. Hah. Oh and seriously, for the price of that one, it should come with at least 2 controllers and free online gaming. Wow.

Alright so after the party my mum wanted to go to the CVS near our house to get the Venus Razor deal. So we met up there and I helped her get a few things. She is still learning it all and spent $24.xx OOP and only earned like $20 ecbs. She'll get the hang of it soon though. I came home with this...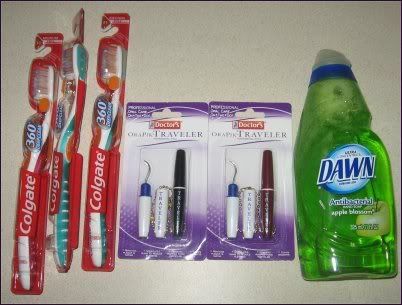 $0.88 - Dawn Dish Soap
$11.97 - Colgate 360 Deep Clean Tooth Brush x 3
$5.58 - Orapik Travel Kit x 2

- $0.25 Dawn Coupon
- $3.00 CVS Coupon ($3 off $15)
- $5.00 ECB
- $10.00 ECB

Total OOP: $0.21
Earned ECBs: $17.55 + a $2 off CVS coupon + a $1.50 off Aveeno coupon

My ECB stack at the moment...




Wow. Roughly $70.00 right now.

Busy day and I'm exhausted. I've decided to put together some "care packages" for people I know with all the extra stuff I've been getting. I'm going to put a box together for my sister tonight. She's a college student, so I imagine helping her save a few bucks on these things would be helpful. For her: a razor, shaving cream, shampoo, conditioner, soap, tooth brush, toothpaste, dish detergent, dish soap, etc.