It's 1am and we just got back from Walgreens. I have been reading about all these amazing deals people are getting there with the P & G deal going on. I spent hours configuring what to get, what coupons to use, what order to do it in, etc. In the end, it wasn't anything like I planned. But I came out better. Unfortunately at Walgreens you spend a lot more OOP than CVS. But I think I did well...considering...

I needed a few more RR's before I could do my deal, so I roamed around collecting what I could while I sent the husband to check out for two small separate orders. I think if I would have split the small orders into even smaller orders I would have spent less OOP, but I didn't even think about it at that time.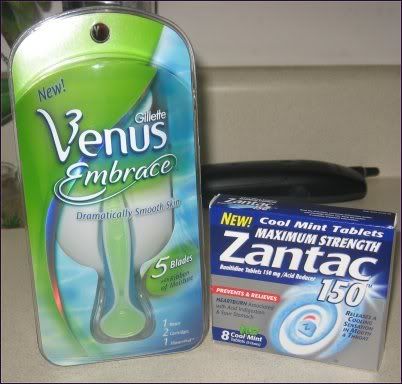 First order. Same thing I got this morning.

$9.99 - Venus Razor - 1
$3.99 - Zantac - 1

- $4.00 Venus Coupon
- $5.00 Zantac Coupon

Total OOP: $5.96
Earned RRs: $9.00 ($3 for Zantac, $6 for Venus)

I printed the Zantac coupon off a Zantac website and the register accepted it without a problem, giving me $1.01 overage! I was only able to print one of those, but had another $5 off from the Walgreens website. So I sent the husband to do a second small order.




Second order.

$9.99 - Venus Razor - 1
$3.99 - Zantac - 1
$3.99 - Lax - 1 (after surgery issues :sigh:)

- $4.00 Venus Coupon
- $1.00 Zantac Coupon

Total OOP: $13.23
Earned RRs: $9.00 ($3 for Zantac, $6 for Venus)

This time the $5.00 off Zantac coupon we tried to use beeped and couldn't be used. :( But I had a $1.00 coupon for it, so was able to use that. So basically the Walgreens/Smartsource Zantac coupons do NOT work for overage or adjustments, but the Zantac website coupon goes through fine. Weird!

Oh and a sucky thing about RRs: Unlike ECBs, you can't use RRs you get from an item to purchase the same item for more RRs. The stipulations for RRs are a lot stricter than CVS ECBs. But I wanted to give Walgreens a shot, mainly out of boredom, haha. I've been couped up all week long, I deserved an outing!

Finally we have $18 RRs. From what I've read I can't use the same RRs to pay for a purchase. For example I have 2 $3 for Zantac and 2 $6 for Venus. I can use 1 $3 and 1 $6 but not two $6. This was proven correct with the cashier handed me back one of my $6 RRs. :(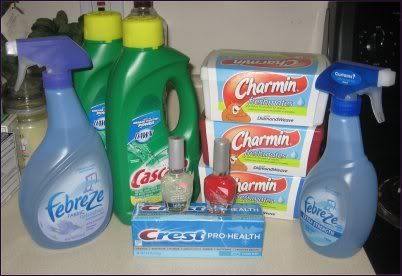 Third (and final) order!

My original plan was a bunch of toothpaste, but they had ONE left and a bunch of empty shelves. Go figure. So I had to play around with my scenario a bit.

$1.39 - 20oz Pepsi - 1
$3.99 - Febreeze - 1 (large)
$7.47 - Charmin Fresh Wipes - 3
$5.00 - Cascade Detergent - 2
$3.49 - Febreeze - 1 (small)
$7.98 - Cover Girl Nail Polish - 2
$2.50 - Crest Pro Health Toothpaste - 1

Subtotal: $31.82

- $6.00 RR (Venus)
- $3.00 RR (Zantac)
- $2.50 Cover Girl
- $0.50 Crest
- $0.25 Cascade
- $3.99 Febreeze (had b1g1f, cashier took off the larger bottle)
- $2.00 Cover Girl

New Subtotal: $13.58

And I received $20 RRs and $2 off Charmin next week!!

Although going over my receipt I just realized the cashier left off my Charmin Wipes coupon. I should have saved another $2.00. Oh well, still not a bad deal!

So that's $29 RRs I have right now. Some people on the forums have $200+ RRs. That is INSANE if you ask me.

Here's a look at everything I got today! For under $40.00! Not too shabby...