Once the husband got back from my office this afternoon, we decided to run some errands. My only real plans were for CVS and Walgreens. First stop was CVS. I was annoyed when I realized I left all of my $/$$ coupons at home. I have one of each $4 off $20, $5 off $30 and $3 off $15. But since the store was low on toothpaste I figured I'd go ahead and get a small order.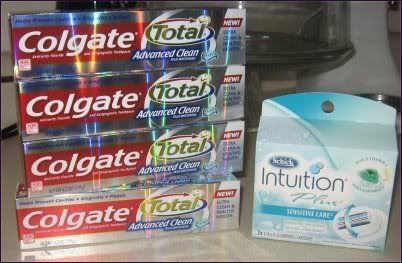 Colgate Total Advanced Clean Toothpaste -$2.99 Each x 4
Schick Intuition Razor Cartridges - $9.99 x 1

Subtotal: $21.95

- $1.00 Colgate Coupon
- $1.00 Colgate Coupon
- $1.50 Colgate Coupon
- $1.50 Colgate Coupon
- $4.00 Intuition Coupon
- $10.00 ECB
- $2.79 ECB

Total w/Tax OOP: $0.80
Earned ECBs: $14.00

Next up was Walgreens. I was sorely disappointed after walking around the store with my weekly flier, only to discover that they didn't have ANY sale items in stock. For example, the Gillette Body Wash? They don't even have it yet! It says "coming soon". Cottonelle Wipes? All gone. Various other items? Nowhere to be found. Since I have to use my RRs before they expire in less than 2 weeks, I went ahead and got a few things.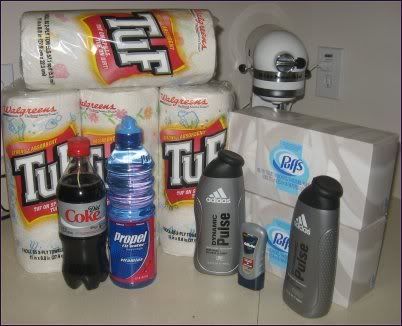 Tuf Paper Towels - $0.89 each x 4
Puffs Tissues - $1.39 each x 2
Gillette Body Wash Sample - $0.99
Adidas Body Wash - $2.59 x 2
Propel Fitness Water - $1.39
Diet Coke 20oz - $1.39

- $1.00 Puffs WAGS Coupon
- $1.57 Tuf WAGS Coupon
- $10.00 WAGS RR

Total w/Tax OOP: $3.49
Received: $1.00 Gillette Body Wash Coupon (Yeah, the item they don't have! Hah.)

Not great, not bad. The husband liked the Adidas body wash scent and since it's a clearance item and I was anxious to use a $10 RR I "left" him get 2. ;)

Next up was Publix. Just to see what the penny item was and pick up a few of the B1G1 items. Couldn't fit everything into one picture, so this is broken down a bit...




Kids Cuisine Chicken Nuggets Meals - $3.98 for 4 (B1G1F)
Sara Lee Strawberry Cheesecake - $2.74 (50% off)
Sara Lee French Cheesecake - $2.74 (50% off)
Seedless Watermelon - $2.78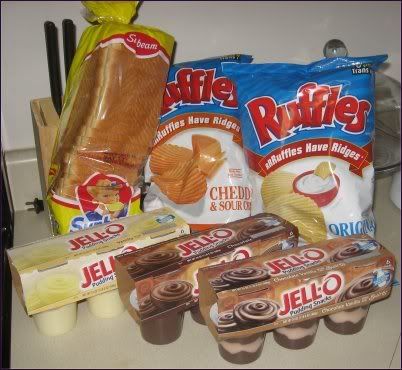 Ruffles Potato Chips - $3.79 for 2 (B1G1F)
Sunbeam Giant White Bread - $2.49
Jello Pudding Snacks - $6.00 for 3




Duncan Hines Brownie Mix - $1.25
1/2 Gallon Milk - $2.29
Hunt's Ketchup - $0.88




Airwick Freshmatic Mini - $9.98 for 2 (sale @ $4.99 each)
Airwich Freshmatic Ultra - $5.99 (sale)
Publix Glass Cleaner - $0.01

I only grabbed the last few items because I had coupons and the glass cleaner was a penny. This trip wasn't much of a deal. And of course the cashier made us hold up the line by walking off with my coupons to locate a manager and make sure they were legit. :( I used the following...

- $4.00 Airwick Freshmatic Mini
- $4.00 Airwick Freshmatic Mini
- $4.00 Airwick Freshmatic Ultra

I guess that is suspicious? Oh well, in the end they were accepted and proved to be legit. My total was $33.78. Way more than I wanted to spend, but I can't win them all. "Your savings at Publix: $47.70" Sure didn't seem like it. I have NOT mastered grocery shopping yet. Then again I didn't go in prepare to buy as much as I did (I left grocery coupons at home).