I missed out on several deals last week, because we've been too busy with another home improvement project. We spent 12+ hours on Saturday removing carpet and busting up tile; and another 6+ hours today finishing it up. We are exhausted. I managed to get a double paper today and around 3pm ventured out to CVS and Walgreens. To my surprise, everything I needed was on the shelves. Woo!

First up was CVS. I got so much stuff in one transaction that there are three pictures for this one scenario...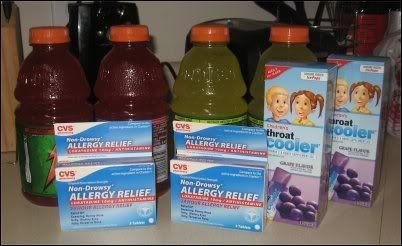 $12.00 - Pepsi 12 Pk. @ $3.00/ea. x 4
$12.00 - Reeses Whipps @ $0.50/ea. x 24
$9.98 - Throat Coolers @ $4.99/ea. x 2
$7.58 - CVS Allergy 5 Ct. @ $3.79/ea. x 2
$5.00 - Pepsi 2 Liters @ $1.25/ea. x 4
$5.00 - Gatorade @ $1.25/ea. x 4
$3.00 - Reeses Peanut Butter Cups @ $0.50/ea. x 6

Subtotal: $54.56

- $10.00 CVS Coupon ($10/$50)
- $12.00 Reeses Whipps Coupons ($1.00 off 2 x 12)
- $4.99 Throat Coolers B1G1F Coupon

New Subtotal: $27.57

Used: $10.00 ECB, $10.00 ECB, $6.99 ECB

Paid OOP: $0.58 + tax (cash)

Received: $10.00 ECB (pepsi), $9.98 ECB (throat coolers), $7.58 ECB (allergy)

Will Receive: $5.00 CVS Gift Card for purchasing $15.00 worth of Hershey's candy, $15.00 in Pepsi coupons

I spent $26.99 in ECBs, but received $27.56 in ECBs back!! Plus the $5.00 gift card that I will receive in the mail someday. It was a great day at CVS. I have another $10 off $50 CVS coupon to use before the 23rd. I'll work on scenarios for that at work tomorrow. :)

Oh and the Pepsi deal is buy $20.00 get $10.00 in ECBs back. There is also a mail in offer on Pepsi products. Spend $15.00 on Pepsi/Fritos and receive $15.00 worth of coupons in the mail. (Click here for the PDF form.) EDIT! After reading the fine print, looks like I need to pick up some chips now, oops! I'll get those tomorrow. :)

My next (and last) store for the day was Walgreens. I'm getting more and more into their rebate program. Receipts I entered a few weeks ago were finally approved and since I selected a Walgreens gift card instead of a check, they added 10% of my total to the card! That's $5.00 for free! This is the best method for us, since we use Walgreens daily (it's right around the corner and open 24/7 - very convenient).




$15.92 - Ragu @ $1.99/ea. x 8
$2.49 - Vent Fresh Refill

Subtotal: $18.41

- $3.00 Rago Coupons ($0.75/2 x 4)
- $2.49 Vent Fresh Coupon

New Subtotal: $12.92

Paid OOP: $12.92 + tax

Received: $10.00 RR

This was my best deal of the day, since we use Ragu a lot! $2.92 (+ tax) for 8 jars of Ragu!?! Fantastic deal. I may attempt to put this towards the Pepsi deal at Walgreens for another $10.00 RR and roll it for more Ragu if they restock, there were only 10 jars on the shelf. The deal is buy 8 items (there were several products, not just Ragu) and receive $10.00 RR.

RR = Register Rewards. You can use these on your next purchases. You cannot roll RR's like you can with CVS's ECBs. If you use your RR to repeat the same deal, another RR will not print. That kind of sucks, but you can get creative and work around it.




I'm hoping to run by Rite Aid and/or CVS tomorrow, but we are expecting our floor installer right after work. He is going to assess our area and confirm the quote. Unfortunately our foundation isn't in great shape. We're crossing our fingers that additional prep work will not exceed a couple hundred dollars. :(