Yesterday on Craigslist, the husband found a sales ad for a load of Legos. For $35.00! The picture showed multiple stacks of containers with Legos and an old crate full of the base plates. It really did appear too good to be true. The husband immediately called and the lady said someone was already on the way to pick them up.

:( Oh well. Wasn't meant to be. But later in the evening the husband received a phone call from a number he didn't recognize. It was the Lego lady! The original claimer of the Legos was a no-show! We could come pick them up asap! And so he left. And nearly two hours later he returned with...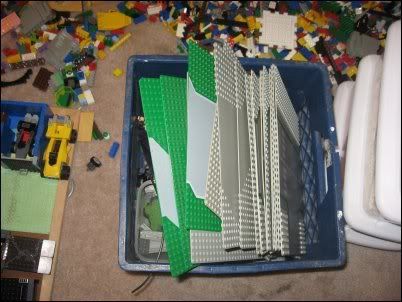 Incredible. 13 bins, 1 crate and a new in box set. Although the collection has a funky smell and some pieces were sticky, after a bath, everything is perfect and we can't get over the parts we are finding. ORIGINAL Star Wars minifigs!! Those are huge ebay sellers. Complete sets from discontinued collections. There are just so many! We MORE than doubled our entire collection, for only $35.00! This lot on ebay would have easily fetched $200 or more, not including the separate sets and Star Wars minifigs. We're quite excited with our find. :) And that's the only recent 'deal'.

It's been a very nice birthday. I had to work, but when I got home the husband had cleaned the kitchen (we had an ant issue yesterday, omg) and took me out to eat and shopping. Picked up the Batman Lego set I wanted (it was cheap!) and we looked everywhere for the New Super Mario Brothers DS game, but no luck. Four stores and we couldn't find it. I gave up! Maybe another time.