Time to catch up! Mail bag for the past week includes: $3.00 Pinecone check, $1.00 Old Spice Body Wash Coupon + sample bottle & Nivea Shave Cream sample + $1.00 coupon. Nothing too exciting.

Friday I ran to CVS to do another batch of the Lifesavers deal. I went to the same store as before, but had a different cashier. She kindly told me I'm "not suppose to do this" and that it's "fraudulent and illegal". Wrong and wrong. *eyeroll*




Lifesavers - $2.19/ea. x 10

Subtotal: $21.90

- $10.95 - CVS B1G1F Sale
- $10.95 - Lifesavers B1G1F Coupons x 5

New Subtotal: $0.00

Received: $5.00 ECB

I also received an additional $10.00 ECB for a CVS survey I took in mid-July. And I received a coupon for a free bottle of CVS aspirin 10-120 count, up to $1.99. I was in CVS this afternoon and couldn't even find a CVS aspirin for less than $3.49! Free?! Hmm. I forgot a few coupons at home, so left empty handed. I'll figure that one out tomorrow. I still have 5 of the Lifesavers B1G1F coupons left. I attempted to use them Friday evening at the store by my house and was refused. *sigh* I'm getting a bit fed up with CVS lately.

Last night we went to IHOP (ew) around 1am with a friend. Since it's right near Walmart, we stopped by after we ate. I had two of the Electrasol coupons that I needed to use since they're expiring soon.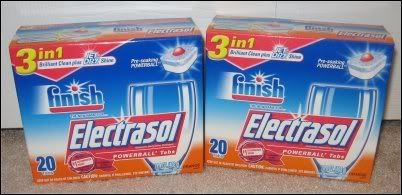 Electrasol Powerball Tabs 20 Ct. - $2.50/ea. x 2

Subtotal: $5.00

- $2.25 Electrasol Coupon
- $2.25 Electrasol Coupon

New Subtotal: $0.50

Today I picked up a double edition Sunday paper. Lots of fantastic coupons! Rite Aid was by far the best store for deals this week. I spent an hour sorting, cutting and planning and off I went!




Nice'N Easy Auburn Hair Dye Kit - $7.49
Gillette Fusion Power Razor - $9.00
Olay Pore Redefining Scrub - $7.99
Infusium 23 Shampoo - $5.99 (bonus double pack!)
Gillette Mens Shampoo - $4.49
Revlon Pink Nail Enamel - $2.99

Subtotal: $37.95

- $6.98 Rite Aid SCR (May)
- $1.50 Rite Aid Nice'N Easy Coupon
- $2.00 Nice'N Easy Coupon
- $4.00 Gillette Fusion Razor Coupon
- $1.00 Gillette Mens Shampoo Coupon
- $1.00 Revlon Cosmetics Coupon
- $3.00 Infusium 23 Coupon
- $1.00 Olay Coupon

New Subtotal: $17.47

I will receive a single check rebate for the following items: $7.99 Olay, $5.00 Razor, $3.99 Nice'N Easy, $3.49 Gillette Shampoo, $2.99 Revlon, $1.99 Infusium 23. Total rebate amount? $25.45!! Yay!

Although looking at my receipt I realized that my $3.00 Infusium 23 coupon rang up as $1.00 off Fixodent, wtf? Ugh. :( So they owe me $2.00. Have to get that cleared up tomorrow, since the store closes in 6 minutes. I really don't like Sunday store hours.