The past few weekends have been very busy for us and I've now gone two weeks in a row without getting a Sunday paper. One of which, unfortunately, had some very good coupons. :( Even my little neighborhood paper didn't have the coupons I was looking for in the inserts. Anyhow I managed to make a couple of stops today. First up was Rite Aid...




Downy Fabric Softener - $4.49
Crest w/Scope Toothpaste - $3.19
Vive Hyrda Gloss Shampoo - $4.99/ea. x 2

Subtotal: $17.66

- $4.99 Rite Aid B1G1F Vive Sale
- $4.99 Vive B1G1F Coupon
- $1.00 Downy Coupon
- $0.75 Crest Coupon

New Subtotal: $5.93

I used my June rebate check to pay $5.49.

Total OOP: $0.44 + Tax

And I'll receive $3.19 back for the Crest SCR! :) I have more of the Vive Hydra Gloss B1G1F Shampoo coupons, but they only had 2 bottles left. I'll stop by the other Rite Aid tomorrow and hope they have some!

After that I decided to run by Publix and pick up a few items we were out of. Hurricane Fay (or is it just a tropical storm now?) is pounding Florida and heading our way, so I'd like to have the basic items now rather than having to make a last minute run to a crowded and empty-shelved store!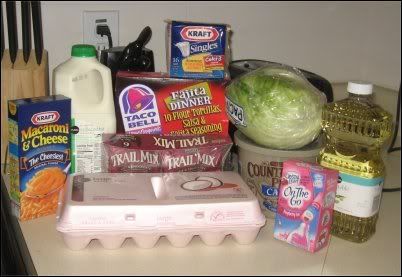 Vegetable Oil - $2.69
Taco Bell Fajita Kit - $2.69
1/2 Gallon Milk - $2.49
Large Eggs, 18 - $2.09
Crystal Lite - $2.00
Butter - $2.69
Mac N' Cheese - $0.75
Planters Mix - $1.50
Lettuce - $1.49
American Cheese - $3.19

Subtotal: $21.58

- $3.19 Kraft Buy 3 Get Cheese Free Coupon
- $1.00 Planters Coupon
- $1.00 Country Crock Coupon

New Subtotal: $16.39

Not bad. I'm sure I could have done better, but it wasn't a planned trip and I didn't prepare any other coupons. I just happened to have those on me. :) The Planters and Country Crock coupons I received in the mail. :)