Today was a wonderful CVS day! I picked up some coupons from my friend and hit up the store before work.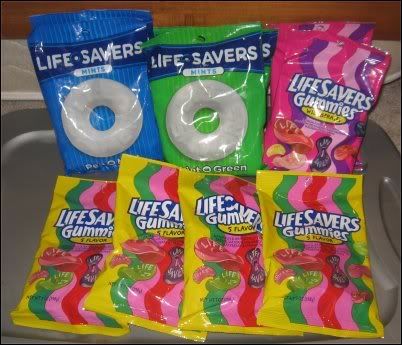 Lifesavers - $2.19/ea. x 10

Subtotal: $21.19

- $10.95 CVS B1G1F Deal
- $10.95 B1G1F Lifesaver Coupons

New Subtotal: $0.00

Received: $5.00 ECBs

This is the first time my entire order was zero! I didn't even pay tax! It didn't cost me a dime in ecbs or out of pocket and I made $5.00! I was able to do a second transaction as well...




Lifesavers - $2.19/ea. x 10
Twix - $0.50

Subtotal: $21.69

- $10.95 CVS B1G1F Deal
- $10.95 B1G1F Lifesaver Coupons

New Subtotal: $0.52 (Which was all tax)

Received: $5.00 ECBs

I'm not sure what happened with this transaction. I originally only had the 10 bags of lifesavers, same as the first transaction. But the cashier (same one) was flustered from a crazy customer that was a head of me and didn't input the coupons correctly at first. She had to void several and I think confused herself and I ended up with a negative total. I said no problem and just tossed in a Twix bar. I still can't figure out the math on the receipt - it's a mess! But that's the basic idea, I think.

I still have 10 more coupons, so that's another $10.00 in ECBs to earn. :) I gave 5 of them to my mother so she can go ahead and get some free candy and ECBs too. This was perfect timing, since I have $30 in expired ECBs that are completely useless. :( *sigh*