A few updates, finally! Mail bag: $10 Kroger gift card from the AJC, $8.00 refund check from the AJC and an Iams Dog Food FREE Product Coupon (18-22lb bag!).

A few days ago the husband ran to Publix for me, while I was at work, to get this deal! 39 Packages of Gerber baby food - for free!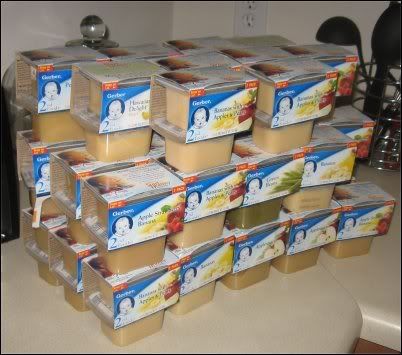 This Publix store accepts competitor coupons and I had $1.00 off Gerber baby food from Food Lion. The Gerber baby food was on sale 3 for $3.00 at Publix. I printed out 39 of the $1.00 coupons and the husband came back with 39 packages of baby food! (Double packages too!) Not bad. Unfortunately we've discovered that the Publix right next to our house isn't coupon-friendly (same store as the store/manu incident I posted about) and refused to do the deal, so we only got the 39. I'm pleased with it though!

We've been renovating our kitchen for the past few days, to put down a ceramic floor. This has been such a headache! A very expensive project thanks to an uneven foundation! I had to get out of the house today and thanks to a friend of mine I knew where I needed to go: Kroger!



Pantene Shampoo & Conditioner @ 3 for $10.00 x 9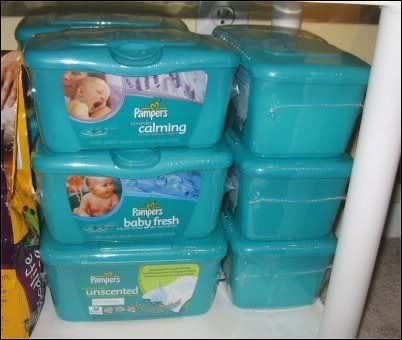 Pampers 77 count wipes @ $2.61 each x 9

Subtotal: $53.49

- $18.00 Kroger P&G Deal (buy 3 get $3 off)
- $16.00 8 $2.00 Pantene Coupons
- $8.00 8 $0.50 Pampers Coupons (doubled)

New Subtotal: $11.49

- $10.00 Kroger Gift Card

OOP: $1.49 + tax !!!

Would have been better if I had 9 of each coupon, but I was 1 short of each! Later this evening I saw a friend of mine and was able to get six more Pantene coupons from her (thank you!), so I ran up to Kroger again...




Pantene Shampoo & Conditioner @ 3 for $10.00 x 2

Subtotal: $20.00

- $6.00 Kroger P&G Deal (buy 3 get $3 off)
- $12.00 6 $2.00 Pantene Coupons

New Subtotal: $2.00 + tax!

So for approximately $3.49 + tax I came home with 15 bottles of Pantene and 9 boxes of Pampers wipes. That is fantastic!! Kroger ran out of the pink bottles, but my coupon still worked on a different version of the shampoo, yay. Tomorrow I'm going to try a diaper deal at Walgreens and see what I can get!! :)