Well I survived my surgery yesterday! Had to beg the doctor to let me come home, but it finally worked and I was released around 7pm last night. They originally wanted to keep me overnight for observation. Can you imagine that bill!?

Since I can't go out and do anything, the husband went out for me. :) We needed a new broom, so he ran to Wal-Mart. I had a coupon expiring today and I wanted to use it!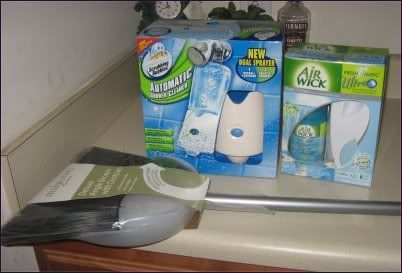 Broom - 1
Scrubbing Bubbles Automatic Shower Cleaner - 1
Air Wick Freshmatic - 1

Total OOP: $10.xx

The scrubbing bubbles kit is normally $24.99, was on sale for $12 and I had a $10 off coupon. The Air Wick thing was $6 and I had a $4 off coupon. Not bad! The broom was the most expensive at $5.




My "old" work printer. I took it home to use while I work from home. I kept telling my boss it was an easy fix, but he ignored me and hey, I won't complain, I got a wonderful new printer in my office. It's still not working that great, but the husband was able to set it up so I can print basic things!

Well I better go lay back down. This took more of a toll on my body than I expected. But it's a happy new beginning for us!!