It's been over a week since I've done any shopping. Yesterday I decided to stop by CVS on my way home from work. I'm low on laundry detergent and they had Tide on sale with ECBs. Not a profit by any means, but it was something I needed!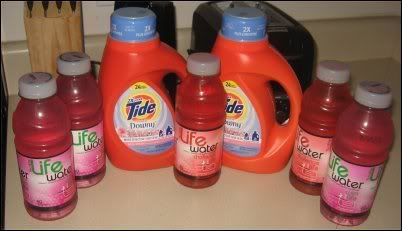 2X Tide w/Downy (24 Loads) - 2 @ $5.99 each
Life Water - 5 @ $1.00 each

Subtotal: $16.98

- $5.00 CVS Coupon ($5 off $15)
- $0.50 Life Water Coupon
- $0.50 Life Water Coupon
- $0.50 Life Water Coupon
- $0.50 Life Water Coupon
- $0.50 Life Water Coupon

New Subtotal: $9.48

Used: $5.98 & $3.79 in ECBs.

Paid: $0.74 out of pocket. :)

Earned: $6.00 ECBs.

My receipt is about 3 feet long! On top of the ECBs that printed out, I received several other CVS coupons. Free $25 gift card when you transfer your prescription to a CVS pharmacy - this is perfect, as I need to refill my pain pills! Save $1.00 on any body wash. Save $3.00 on any Excedrin 50ct. or larger.

Spent more in ECBs than earned, but I needed the laundry detergent and there weren't very many deals going on. They were still sold out of the Tums, as was the other store. Neither would issue me a raincheck, because they can't issue rainchecks for "free" items. (The Tums is free after ECBs for the month of May.) I know this is false, as several other people have been able to obtain rainchecks just fine.

Tomorrow we have Comcast coming to the house to install cable internet and TV. This will be a huge savings for us. We'll be able to get rid of DSL, the home phone line and Direct TV - saving over $120 a month!! Plus for signing up with Comcast we get a $200.00 Amazon gift card (is it sad I wish it were for CVS? LOL!).