Yesterday after work I ran by Target. Someone posted on a forum that The Good Life Cat Food was on sale for $3.59. I had 8 $3.00 off coupons. The cat eats anything, so I figured I'd stock up for cheap.




And I came home with 8 bags of The Good Life Cat Food - a few not pictured. I also had a $5.00 off coupon for Iams Naturals Cat Food and that was $7.69, so it ended up as $2.69. Not bad. Plus I had an $8.00 off coupon for Iams Naturals Dog Food (!!!), so I was able to get a larger bag that was $10.79 for $2.79! After a variety of price checks and resets, I spent $10.98 OOP. Not bad for all that cat and dog food!!

Today after work I decided to stop by the nearby CVS store. To my surprise they had everything I was looking for in stock! I ended up breaking my order up into two separate purchases. The cashier was a bit slow and took forever. I purposely waited until everyone had checked out before I went to the register, as I hate to hold up a line! When I began checking out I was the only customer in the store. Twenty minutes later, when I left, there were 9 people behind me. I felt so bad. :( But it wasn't my fault!!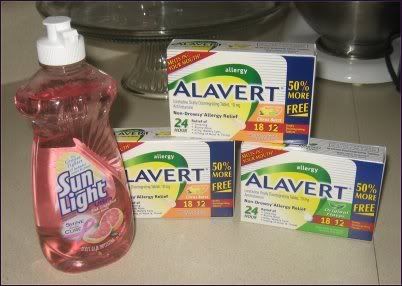 Sunlight Dish Soap - 1 Bottle - $0.79, had $0.25 coupon
Alavert Allergy Meds - 3 Boxes - $6.99/ea. had $4.00 off coupons

Total OOP: $1.28
ECBs Earned: $12.00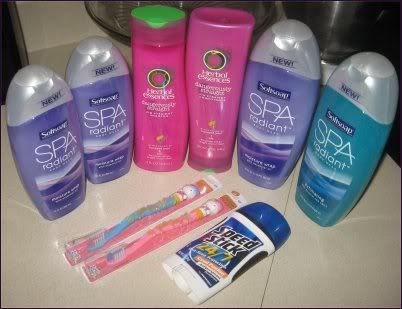 Soft Soap Spa Body Wash 12oz - 2 Bottles - $4.99/ea.
Soft Soap Spa Body Wash 18oz - 2 Bottles - $5.49/ea.
Herbel Esscenses Shampoo - 1 Bottle
Herbel Esscenses Conditioner - 1 Bottle
Hello Kitty Zoothbrush - 2 Brushes
Speed Stick 24/7 Deodorant - 1 Stick

After the cashier rang this all up and figured out my coupons (seriously, so slow), the total was NEGATIVE $2.82! She looked confused. I said no problem, just scan the Hello Kitty toothbrush again and I'll go grab a second one. She did...

Total OOP: $0.25!!!!!!!!!!!!!!! TWENTY FIVE CENTS!
Earned ECBs: $26.95

I was so excited about that deal. Although I did leave so embarrassed for holding up the line. :(

Once I get home we decided to grab dinner and stop by Publix. I had some manufacturer coupons to use up, because they expired today. I needed paper towels, toilet paper and shampoo. This entire deal ended up completely messed up, because the cashier I had was rude and ignorant and refused to listen to me!



Bounty Extra Soft Paper Towels - 4 Packs
Charmin Ultra Soft Toilet Paper - 2 Packs
Pantene Shampoo/Condition - 2 Bottles

Now I had 2 $3.00 off Bounty coupons and 2 $5.00 off Charmin/Pantene when purchased together coupons. The lady rang my stuff up and refused to accept the coupons, because the ones I got weren't what was PICTURED. I said no, READ the coupon. It's for ANY SIZE, not that specific one. She just kept repeating herself and refused to take it. Meanwhile, my clueless husband proceeded to run the debit card through and pay for the order. Then I pointed to the lady and said "Well you can use the $5.00 off coupons, because I DID get the correct Charmin & Pantene" and sure enough she said "yes you can use those". No kidding. She should have listened to me! But since the husband already paid we had to go over to customer service and get $10 back. :sigh: Can't win them all I guess. Ended up spending $16.xx OOP - should have been under $10, but whatever. I'm more annoyed at how the lady treated me, when I was calmly trying to explain.




Went to the CVS store by our place. My favorite cashier guy was there! He is so cool. He never gives me trouble about coupons or anything.

Sunlight Dish Soap - 1 Bottle - Had $0.25 coupon.
Alavert Allergy Meds - 1 Box - Had $4.00 coupon.
Hello Kitty Zoothbrush - 4 Brushes - Had 2 B1G1 Free Coupons.

Total OOP: $0.72
Earned ECBs: $7.00

So that was my evening. Now I'm exhausted, have a headache and am ready for BED!