Picked up the Sunday paper. Cut and organized coupons and headed out for a day of shopping!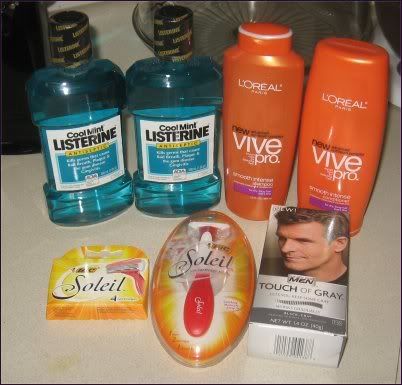 CVS Trip.

Listerine - 2 Bottles
Bic Soleil Razor - 1 Package
Bic Soleil Razor Refils - 1 Package
Just For Men Touch Of Grey - 1 Box
L'Oreal Vive Pro Shampoo/Conditioner - 2 Bottles

Total OOP: $2.65
Earned ECBs: $14.99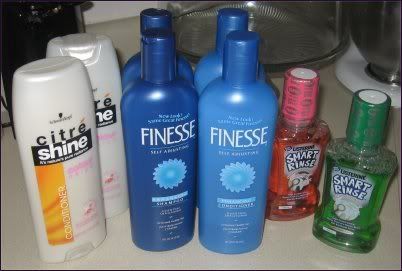 Rite Aid Trip. We made two orders, so we can put in for two rebate checks. Each order was the following:

Cintre Shine Shampoo/Conditioner - 1 Bottle
Finesse Shampoo - 1 Bottle
Finesse Conditioner - 1 Bottle
Listerine Smart Rinse - 1 Bottle

Total OOP: $8.74

But will receive $7.00 rebate checks. So technically we spent $3.48 for everything. :P




Walmart Trip.

Iams 8lb Dog Food - 1 Bag
Keebler Fudge Stripe Cookies - 2 Packages

Total OOP: $8.10

This would have been free, but the gift card I had wouldn't work, so I have to call about it tomorrow. It was the $10 card from the Mach Razor survey I did. Kept being declined.

After Walmart, we decided to go by GameStop since it was right there. That store is tiny and it was crowded. It smelled like pickles and I couldn't wait to get out of there. I did a preorder for Wii Fit. :P I'll put a couple bucks down on it every week. Then when I pick it up I won't feel terrible for wasting $90 at once. Haha.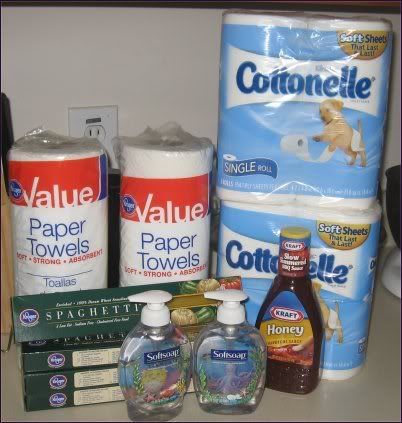 Kroger Trip.

Paper Towels - 2 Packages
Spaghetti - 4 Boxes
Soft Soap - 2 Bottles
Kraft Honey BBQ Sauce - 1 Bottle (THIS IS SO GOOD BTW)
Cottonelle Toilet Paper - 2 Packages

Total OOP: $6.69

Also went and purchased gas while at Kroger. $48.00 - WOW! That's the most I've EVER spent filling up my CRV. Thank god for great gas mileage.




Publix Trip. Last stop!

Texas Toast - 2 Boxes
Marie Callender's Chicken Pot Pie - 2 Boxes
Sparkle Paper Towels - 1 8 Pack
Lucky Charms - 1 Box
Chinnamon Toast Crunch - 1 Box
Publix Sweet Tea - 2 1/2 Gallons (Only 1 pictured.) This was only 1 cent!

Total OOP: $12.xx (Misplaced this receipt, oops.)

After Publix we decided to go to Bugaboo Creek. I wasn't in the mood for my normal pasta meal, but they had a new menu. The 'Maple Garlic Chicken Wings' sounded awful but looked soooo good. I got those. DELICIOUS. Difficult to eat though. I won't touch my food with my hands, so eating wings with two forks is hard. Really good though. And we both had $5 off coupons!




YUMMY.