Hello! I'm back! That was a long, unexpected hiatus from couponing/blogging. I think it just became a bit too overwhelming and I needed the break. Plus I had a lot of work woes that needed to be dealt with.

Anyway, I woke up this morning, 2 hours before my alarm, and my first thought was "coupons! expiring! today!" - I have no idea why. I got up, went through my cabinet. Threw away 99% of my coupons (old/expired) and found some good ones - that, expired today! Seriously, good ones...check out all the FREEness...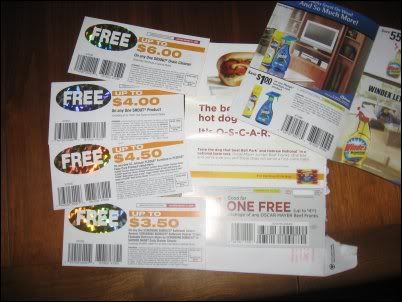 I spent my day at work planning out my trip to Publix. (Work is that slow lately.) I had tons of competitors coupons to use and wanted to work out a good scenario for low oop. It's been awhile since I've done this. The husband got home late, so we didn't head out until 9pm and the store closes at 10pm. I didn't get everything I wanted tonight, but I considered it my "test run". I'll be back this weekend. Here's my haul...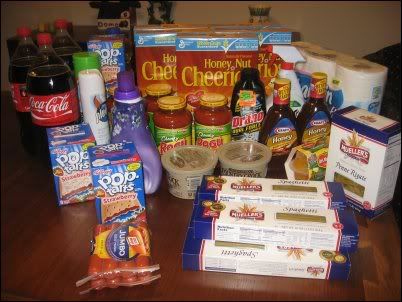 $3.87 - Snuggle Fabric Softener
$1.70 - Louana Vegetable Oil
$4.00 - Coke 2 Liters x 3 Bottles
$3.99 - Pledge
$1.89 - Country Crock Spread x 2 Tubs
$3.87 - Muellers Pasta x 6 Boxes
$2.99 - Oscar Mayer Jumbo Beef Hot Dogs
$10.95 - Ragu Pasta Sauce x 5 Jars
$4.99 - Charmin Toilet Paper 6pk
$3.29 - Scrubbing Bubbles Cleaner
$4.59 - Drano
$2.99 - Shout
$4.78 - Pop Tarts x 4 Boxes
$2.79 - Kraft Honey BBQ Sauce x 2 Bottles
$9.95 - Honey Nut Cheerios x 5 Boxes
$2.75 - Del Monte Fruit Cups

Subtotal: $69.39

- $5.00 Publix $5/$30 Coupon (received in mail)
- $2.00 BJs Snuggle Coupon
- $1.34 Coke B2G1F Coupon (found in store w/2 liters)
- $3.99 FREE Pledge Coupon
- $1.00 Muellers ($1.00/3 IP)
- $1.00 Muellers ($1.00/3 IP)
- $2.99 FREE Oscar Mayer Hot Dog Coupon
- $10.00 BJs Unilever Coupon*
- $4.00 BJs Charmin Coupon
- $1.00 Charmin Coupon (found in store w/detergents)***
- $3.29 FREE Scrubbing Bubbles Coupon
- $4.59 FREE Drano Coupon
- $0.75 Target Pop Tarts Coupon (IP)
- $0.75 Target Pop Tarts Coupon (IP)
- $0.75 Target Pop Tarts Coupon (IP)
- $0.75 Target Pop Tarts Coupon (IP)
- $10.00 BJs General Mills Coupon**
- $2.00 BJs Del Monte Fruit Cup Coupon

New Subtotal: $14.19

For some reason my receipt is all wonky and the numbers don't add up when it shows the amount before coupons. It shows $96, but I believe that is before the Publix B1G1F deals, which applied to the following items: Muellers Pasta, Louana Oil, Country Crock, Pop Tarts, Cheerios & Kraft BBQ sauce.

* The BJs Unilever coupon came from their magazine they mail out to members. Ragu is a Unilever product. In the end I got 5 jars of sauce for $0.95!!

** The BJs General Mills coupon applied to cereals and fruit rollups. When you buy 5 of the pictured products, you get $10.00 off. I receive $0.05 overage and 5 free boxes of Cheerios!

*** We found a hangtag coupon for any Charmin 6 pack hanging around a laundry detergent. Since I used the $4 BJs Charmin coupon, I wasn't sure if they'd take both. They did! BJs is a competitors and they ring it in as a store coupon, so you can still use the manufacturer coupon. This meant a 6 pack of toilet paper for free. :)

I have several more of these coupons and plan to stock up this weekend! The transaction went flawlessly and the cashier told me I should teach coupon classes. I love having a nice cashier.

Target is clearancing out a TON of their toys, anywhere from 30% to 75%. I went to the store in town last night and it was wiped out. My friend beat me there and cleared the shelves! Way to go Nicole. ;) (That's the real coupon queen btw, she taught me all this.) Tonight we went to the Target in the next town. While their shelves were still relatively full, not all the items were discounted. We came home with just this tonight: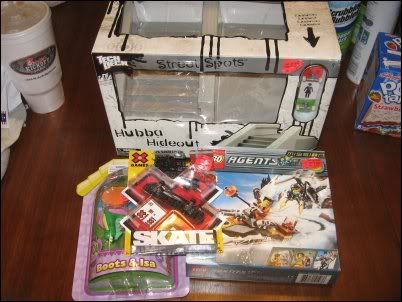 $3.74 - Tech Deck Ramp
$0.74 - Tech Deck Mini Skateboard
$1.74 - Dora Characters
$2.47 - Lego Set

Subtotal: $8.69

Not bad. My husband is a big kid and got the Tech Deck items. I collect Legos, so grabbed the only set I saw. And I got the Dora characters because it has a CUTE monkey and dragon.

I haven't done any couponing since April/May. But that doesn't mean I wasn't getting deals! Last month my husband bought this Blazer for $300. He had to repair a few things on it, which cost us about $100. He turned around and sold it for $1000. $600 Profit!! He is now currently working on an F150 that he got in a trade (no $), which he plans to keep and when that's fixed up we'll sell his Civic.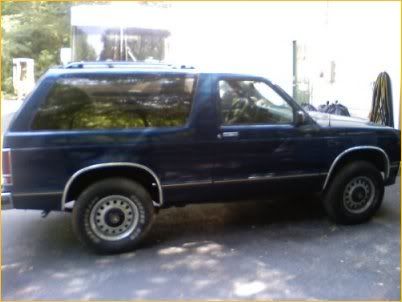 I have been searching nonstop for a 1960's vintage mid-century buffet for months. Unfortunately they sell for $500-$2000! I saw an affordable one forever ago on Craigslist and it sold before I had a chance to leave work that same day. One day I was browsing Craigslist when I hit refresh and a new ad popped up. "Dining Table & Side Table" was the title, basically no keywords there (smart sellers ALWAYS use keywords!! sell faster, make more money!!). I clicked on the link and I immediately called; I WANT THAT BUFFET! The lady agreed to sell it separately for $100. I called my husband, he arranged to borrow a friends truck and he drove over to pick it up.

While there, he gave me a call and said the dining room table and chairs were really nice and he thought I would like them. The lady said she'd sell them to him for another $100. I said fine. I assumed I'd hate the set and I'd just turn around and resell the table for about $1500 (the going rate...). When I got home it was all set up and it is perfect. Near mint condition. I couldn't be happier with the buffet and the table is awesome. It's nice to have a table again too!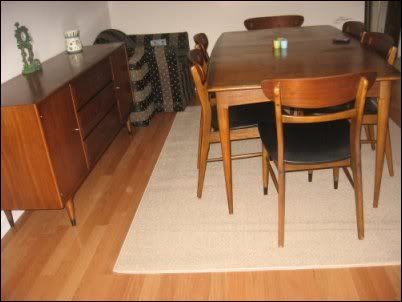 After looking all over town, I found that carpet for $30 at BJs Wholesale Club. :) Every other store wanted $200+ for that size rug!

I plan to get back into couponing starting this week. There are FIVE INSERTS in the August 2nd Sunday paper; make sure you get one (or 2 or 3). I hear that CVS and Rite Aid will have great deals this upcoming week too. Off to research those now.