Yesterday I ran by Kroger to use my 50¢ Cottonelle coupons before they expired (not until the 20th). The Kroger store near work that I checked the other day was completely sold out of the toilet paper, so I was anxious to find them asap. The other Kroger had a full stock of the Cottonelle! I had 20 coupons, gave 7 to my mother, so I had 13 to use. Now Kroger doubles coupons up to 50¢, and the toilet paper is 99¢ for a 4-pack; so it's free!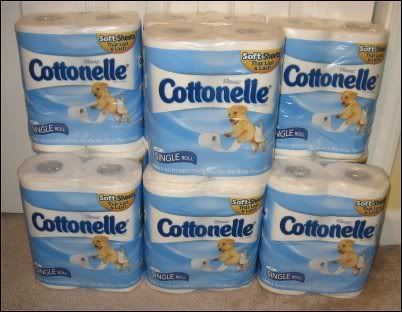 Cottonelle 4pk Toilet Paper - $0.99/ea. x 13
Iams Healthy Naturals Dog Food - $11.99 (not pictured)

Subtotal: $24.86

- $3.00 Iams Coupon
- $12.87 Cottonelle Coupons (doubled)

New Subtotal: $8.99 + tax

Now that's what my subtotal SHOULD have been. I didn't realize until we were almost home that cashier only scanned in 11 of the 13 Cottonelle coupons. Ugh!! :( So that's $1.98 I paid that I did provide coupons for. Not cool. Oh well. The lines were insanely long and they only had one regular register open, so we went through the self-checkout and that requires you to hand the coupons to the cashier in charge of self-checkout. Well when she scans the coupons, the screen just says "PLEASE WAIT FOR CASHIER" and then it says "PLEASE PAY". Without showing the list of coupons scanned in. Bad set up and I won't make that mistake again.

Afterwards we ran to Target so the husband could get a CD that came out ($20.00!!!). We found more clearance baby items, these were all about $1.00!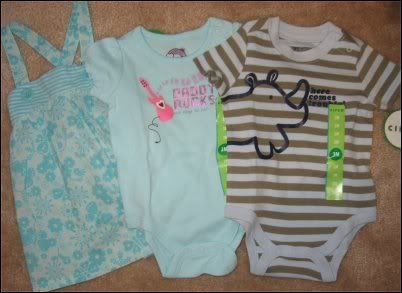 Cute! & Cheap. The blue flowery top on the left was $0.68. They have newborn to 4T sizes on sale/clearance.

This morning I ran by Walgreens. I didn't have any drinks left at work, so I ran in to get a few 20 oz's. I noticed they had the Crest mouthwash back in stock and decided this would be a good way to roll over my $10.00 RRs from the Robitussin deal.




20oz. Diet Coke - $1.39/ea. x 2
Milano Cookies - $3.19
Crest Mouthwash - $4.49

Subtotal: $10.46

Used: $10.00 RR

Paid OOP: $0.46 + tax

Received: $4.50 RR for the Crest :)

On the coupon forums people usually rave about their Walgreens beauty advisor cashiers being the best cashiers in the stores. I can't do that about mine, she hates me! She's disliked me ever since I did the diaper deal in July. She certainly liked my husband though; too bad he wasn't with me this morning.

Anyhow, for some reason she was on the regular cash register this morning and I had to go through her line. She sighed and acted annoyed and then made a snotty comment: "You realize you're getting this super cheap right?" Yes. "I don't think it's right." Well I earned that $10.00 register rewards from doing the Robitussin deal at this store. "It's still not right." If it wasn't right, Walgreens wouldn't offer these types of sales. She mumbled, threw my items in a bag and threw the receipt and Crest RR at me. LOL. I don't understand why these cashiers take it so personally. You're paychecks aren't affected by coupons!!